Graduate Privileged Partners
The Graduate Privileged Partners Program (GPP) is a competitive recruitment initiative designed to connect our highest achieving undergraduate and postgraduate final year students with a select group of industry partners.
It provides a unique opportunity for the hospitality industry to recruit and guide our top graduates towards the senior hotel management roles of the future.
"To become a GPP Student I learnt some of the most invaluable skills to date; interviewing techniques, networking and creating a profile. Through GPP I was fortunate to secure exactly what I was looking for upon graduation – a fast-track Management Development program with an international hotel company."
– Mandy Posetti, Recruitment and Training Manager, Starwood, Sydney
Typical partners who take advantage of the opportunity to lure our top level hospitality graduates include:
Students are encouraged to work hard to be considered for the GPP, which is conducted in the final academic year, and includes personal interviews, familiarisation and induction sessions.
It's our longstanding and reputable industry partners that make the final selection as to who fills any internal graduate positions or enters corporate management programs.
Would you like to know more about GPP?
Contact us if you would like to find out more about Blue Mountains Hotel School and how the Graduate Privileged Partners Program can help you with finding the right hospitality industry job.
Leadership Speaker Series
The Blue Mountains Leadership Speaker Series provides students with the opportunity to engage with those at the forefront of the hospitality industry. Hoteliers and Event Managers discuss current trends within the sector, while providing an open Q&A forum for students to gain greater insight into their future career path from those leading the field.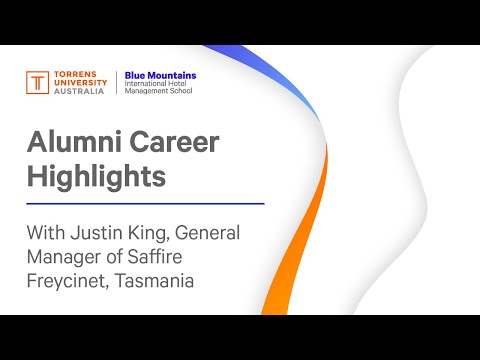 Find out more about our Hospitality Degree Programs
There are many hospitality career opportunities available by studying our Bachelor of Business or Master Degree courses. Contact the Blue Mountains team to find our more on the different roles and fields that can take you around the world.