Leura Campus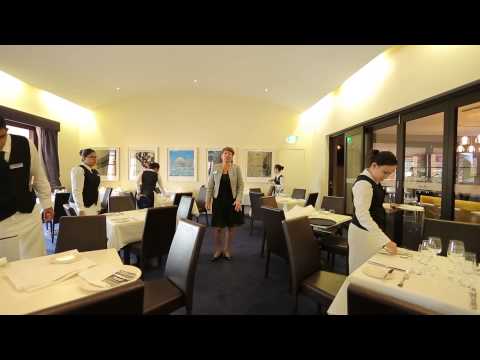 Undergraduate students on our Bachelor of Business Degree programs study at the practical learning center, Leura Campus. Students can select to study International Hotel and Resort Management, Event Management or Restaurant and Catering Management.
Leura is situated in the heritage listed Blue Mountains National Park, about an hour's drive west of Sydney. The Blue Mountains International Hotel Management School, spread out over 2 hectares of landscaped grounds, has capacity for around 250 students.
"This school, being totally dedicated to hospitality, means the students are industry ready because we get to see both sides of the industry – we are both the guest and the staff receiving the training. This is a very good concept."

– Jaideep Rai, India, Year 2 BMIHMS Student
Having a campus located in one of Australia's top natural tourist attractions, the Blue Mountains National Park, means students are not only immersed in a world of hospitality opportunity, but have numerous outdoor lifestyle options on their doorstep. The area abounds with boutique shopping, cafes and restaurants.
Take a look at the Gallery for more images and videos of the Leura Campus.
"Blue Mountains is a great environment for international students as you can practice your English everywhere, but also because of the people – everyone is helpful and friendly. You don't come just to study but to enjoy life and Blue Mountains provides that."

– Tien Le, Vietnam, Year 2 BMIHMS Student
On campus, students 'check in' and run the school as a simulated hotel, performing operational food and beverage management, restaurant service, housekeeping and front office duties. Residential Life on campus allows for greater personal and professional development,  as well as building a strong network of friends.
Accommodation is twin-share in hotel style rooms with private bathroom, serviced weekly. Rooms typically include desks, shelf space, wardrobe, television, telephone, 24/7 wireless Internet, and a small fridge.
Dining – there are 3 restaurants all operated by students, either in the kitchen or front of house. All main meals are provided during residential semesters. Chambers is a la carte; Cookies is a casual cafe; and Ploughman's is a buffet style bistro.
Recreation facilities include a fully equipped gym, basketball court, swimming pool and barbecue area. The student lounge has a home cinema, games systems, ping pong table,  pool table, as well as vending machines.
"What I enjoy most is the social life – the school is very academic but we play hard too. Our social life is very active as we arrange skydiving, paint-ball and other activities, but saying that we are also like one big family."

– Joshua Suli, Australia, BMIHMS Graduate 2013
Social activities abound: the Student Representative Council (SRC) runs a range of events from sports teams, cultural nights, charity fundraisers, and trips to local attractions.
Teaching and IT – modern lecture theatres (fully equipped with state-of-the-art technology), commercial kitchens, training restaurants, 24/7 wireless Internet, intranet site, school email service, library and Mac computer labs ensuring Blue Mountains students have access to the latest in hospitality teaching trends and technology. Lectures are video recorded through our e-podium system, enabling students to access them for revision.
Campus Duty Manager – the residential Leura campus has a 24/7 duty manager available to support students with any issues, concerns or emergencies.
Discover more about the Leura campus
Get in touch with Blue Mountains International Hotel Management School to book a time to speak with an enrolment expert to find out how studying at our residential Leura campus can help with your Bachelor of Business studies.